Bondi and Mikey Litter expected early June 2023 
(Double click photo)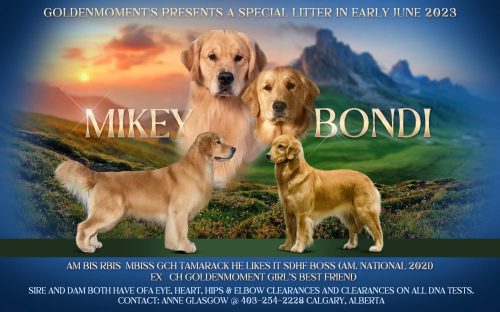 Welcome to the Goldenmoments Website. My name is Anne Glasgow and I have been breeding and showing golden retrievers for 35 years. Here is my story. I fell in love with the golden retriever when I was hiking in the woods near Edmonton, Alberta in 1969 and I ran into a man who had the most beautiful dog I had ever seen, the golden retriever. His dog took my breath away and I then became passionate about the breed. I then went on to study at the university in biology,and then psychology, married a biologist and then finally in 1983 purchased my first golden retriever. Looking back, I can't believe it took so long!!to purchase my first golden retriever. Since I was 12 years old, I began attending dog shows just watching the beautiful dogs and I set a goal to one day show my own dog. I have always loved animals, just like my father who was a vet in the Ukraine.
In 1983, I purchased my first foundation golden, Rosie, CH. Elbeagolden's Alberta Rose, OTCH, WC, from Len and Bea Pugh in Red Deer. Rosie was a solo pup bred from champion parents. Although I bought her as a pet, I dreamed of showing my own dog, so I entered her in a show in Red Deer and guess what, she won 5 points the first time in the show ring. My husband was totally surprised and in disbelief. I came home with a handful of ribbons as Rosie won Best of Opposite Sex, Best of Winners and Winner's bitch. I was also informed that the judge wanted to give Rosie Best of Breed, but I was outhandled by another exhibitor. Anyway, Rosie went on to win at every show I had her in and I was hooked. She was my first brood bitch and she produced many champion goldens, including Group 1 winning dogs. I kept one of her beautiful pups, a multi Group Winner, Ch. Goldenmoment's Teddy Bear, who was out of Canada's top winning golden at the time, Ch. Chigal's Chivas Regel. She also produced a multi-group winning bitch, Ch. Goldenmoment's Terra Nova, out of Ch. Glynspur Ghost Buster. Terra was an outstanding female in conformation, intelligence and temperament.
After moving to Calgary, Rosie passed away at the age of 13, and then I was fortunate to get back a golden I had co-owned with Marty and Lorna Paetz and her name was Tika – Ch. Brookshire's Aurora Gold.  Tika just passed away at the age of 12, one year after winning Brood Bitch in a Golden Specialty. Tika was a wonderful and beautiful golden – she was calm in nature, a natural in retrieving and beautiful to look at. She had tons of coat, bone, angles, an excellent top line and a gorgeous head. She finished her championship as a puppy, winning Best of Breed and Group 1 puppy. Tika went on to produce several champions, including Canada's # 8 All Breed, # 1 Golden Retriever in 1999, CH. Goldenmoment's 007's Bond. Bond accumulated 7,000 points that year, beating the all time winner Ch. Chigal's Chivas Regal. He was expertly handled by Heidi Gervais and I have to brag about the one Best in Show I won with him myself. Anyway, this is my story of how I got into goldens and developed a passion for the golden retriever.
Last update : May 20, 2023
Email: Anne Glasgow
Calgary  
Alberta T2Y 2X8
Canada
Ph: 403 254-2228