Parents of Stars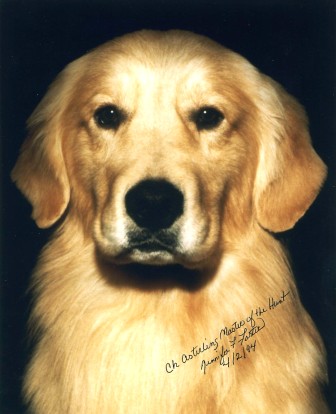 Tika's Sire – Ch. Asterling Master of the Hunt,BISS, SDHF
Hunter
Biography:
 Tika's sire is Ch. Asterling Master of the Hunt. He was a top winning show dog, achieving his Show Dog Hall of Fame and winning Best in Specialty Show. Hunter has a gorgeous head, very soft and pleasing and passed his looks down to Tika.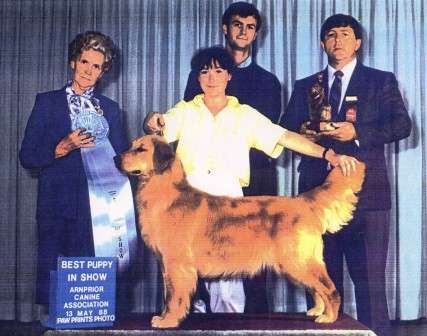 Tika's Dam Ch. Jayba's Chelsea Auburn
Biography:
 Tika's dam was an outstanding dam, reddish in color and owned and showed by Julie Guayof Brookshire Kennel.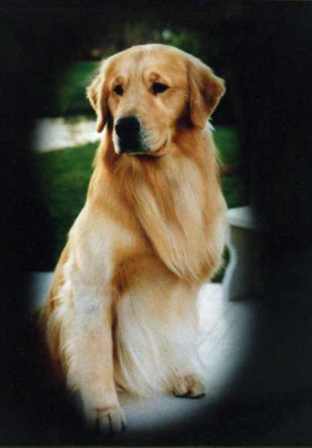 Bond's Sire – Am. Can, Ch. Asterling's Wild Blue Yonder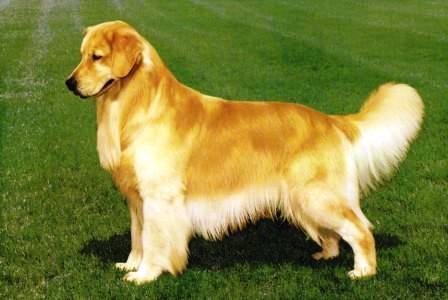 Biography:
 James was the All time winning show golden in US history. He won a total of 52 Best in Shows and Severl Best in Specialty Shows. I saw him several times in real life and he was very spectacular and magnificant. His mother Auruba was also the top winning bitch in US history.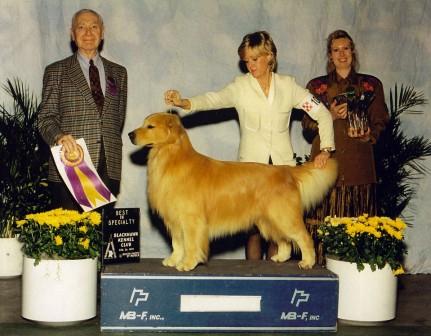 Splash's sire Am. Ch. Summit's Crocodile Rock, SHDF, OS
Biography:
 Burbank is Splash's sire and Tika is her dam. Burbank finished his American Championship at 8 and a half months of age, making him the youngest male champion in the golden breed in the US. Burbank's parents were Best in Show winners – Lyric – BISS Ch. Summit's Mysterious Ways and sire – BISS Ch. Summit's Limited Edition,OS . He sired several champipons including a Best in Show Winner, Show Dog Hall of Fame wimmer, Ch. Wingate's Hot Lips, Ch. Rush Hill's Tigress at Allsgold and Zia Advent Mo Hotta Mo Betta. With Burbank, the proof is in the pudding.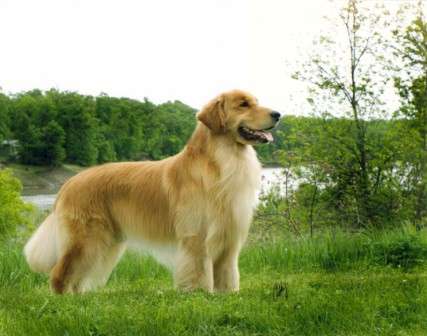 Sire of Clover – Multi BIS, BISS, Am. Can.Ch. Eirenes Soul Provider. SDHF, OS, # 3 All Breed in Canada in 2000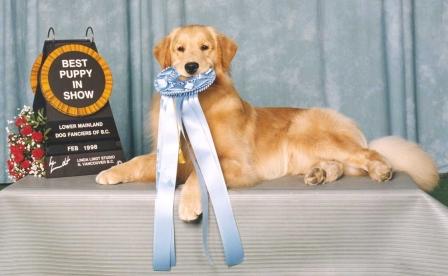 Biography:
 Tom was #3 All breed, #1 Sporting Dog and #1 Golden Retriever in Canada in the year 2000. He is the top winning golden in Canadian history, defeating Bond, who was at the top before Tom came along. Tom has a record beaking 21 Best in Shows. He is a real beautiful golden and moves like a dream – he is very light on his feet. Tom is an athletic looking dog, with a soft expression. Coal black year round pigment and correctly placed ears add to the overall expression. Tom has a straight wash and wear coat, rich gold with white furnishings. Tom's long neck flows gently into his nice topline. Tom has a decent shoulder layback, good prosternum and length of upper arm. He is a moderately boned dog with tight compact feet. Tom soars effortlessly on his side gait with equal reach and drive. The overall effect is that of a handsome, powerful, athletic dog. As a stud he is consistantly producing wonderful temperaments, expression, pigment, great bone, oodles of coat and beautiful movement. He has produced Multi Best in Show winning dogs. What else can I say. Show Career Canadian Show Record Ch at 6 1/2 months owner handled Number One Golden 2000 Finished his championship at 6 ½ months, owner handled 7 Best Puppy in Show, 15 Puppy Groups GRCC Top Puppy in Canada 1997, 1998 GRCA Top Puppy in Alberta 1997, 1998 Best in Show at 11 months Multi Best in Show Number 4 Golden in Canada 1998 #3 Allbreeds, #1 Sporting, #1 Golden 2000 First Golden in Canada to go back to back toback BIS Records Held Most BIS in 1 yr (18) Most BIS in lifetime (21) Most pts in one year (10416) Most SDHF in one year (499) Most Grp1 in one year (67) Most breed wins in one year (104) USA Show Record Three Majors from the 12-18 class First in Class at 1998 US National 12-18 class Fourth in Class Norcal Specialty 12 – 18 class Best of Breed Group Third from the classes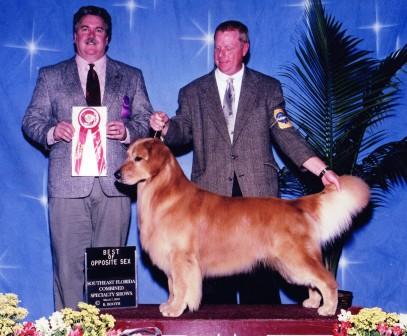 Fable's Sire – Clyde – Am. Can.CH. Calypso's Udderwise Alandon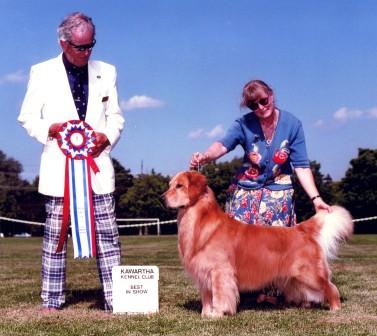 Best in Show
Biography:
 Clyde is a gorgeous male who is out of a well known favorite Ch. Twin-Beau-D's Peterbuilt who was a golden with great structure and movement. Clyde's mother, Am. Ch. Birnam Wood's Toad You So, was also a very nice winning show golden in the US.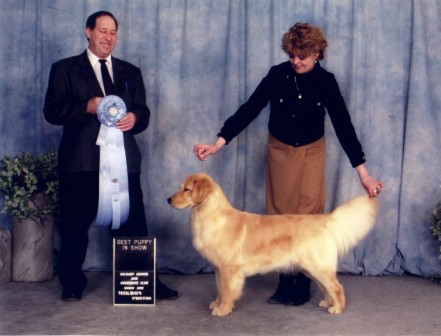 Fable's Dam – Emma –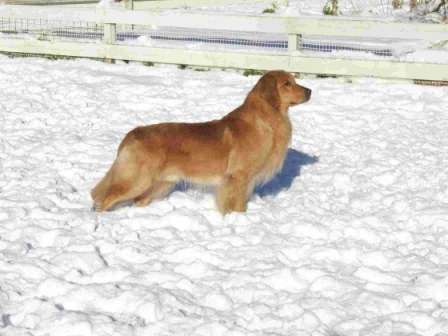 Rissa's Sire – Player – Ch. Corum's Double or Nothing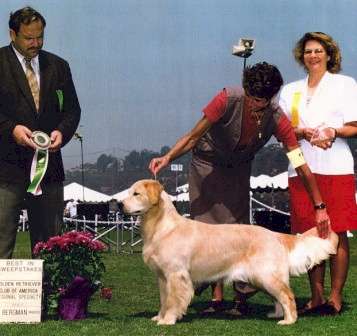 Haley's dam – Salsa – Ch. Benchmark's Hot and Spicey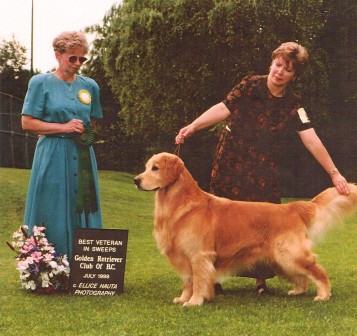 Haley's sire – Shamus – Ch. Justmoor's Believe In Me